Entrepreneurship Worksheets For Kids And Lesson Plans
Entrepreneurship Worksheets for Kids (7-14 Years)
Entrepreneurship Worksheets For Kids – At Kidspreneurship, we make entrepreneurship fun through worksheets, playing cards, lesson plans, and more. Access the most comprehensive learning material for Early Entrepreneurship Education. You can download the Entrepreneurship Worksheets as pdf.
Here are some common mistakes parents make:
They prevent kids from committing mistakes or failing
They protect them from negative emotions
They don't let them explore unconventional things (entrepreneurship)
Lastly, they try too hard to raise a perfect child
If you are panicking because you are making more than one of these mistakes, these worksheets will be a game-changer. Worksheets are self-paced activities (ideal for all those who cannot attend camps) that are engaging and empowering for your child.
How does it work? It is quite simple.
Step 1 – Sign up for the Entrepreneurship Worksheets For Kids (Limited Period Promotion)
Step 2 – Receive activity sheets and audio instructions over email for enhanced learning
Step 3 – Submit all worksheets and get an E-Certificate for Participating in Entrepreneurship Program for Kids
Kidspreneurship has also been awarded "Leaders in Early Entrepreneurship Education" at the fifth annual Singapore Awards by APAC Insider and Early Entrepreneurship Education Initiative of the Year by Corporate LiveWire Innovation & Excellence Awards 2021.
Still, Thinking? Watch This Powerful TEDx talk by Bill Roche where he talks about the power of an entrepreneurial mindset. When we help youth to develop an entrepreneurial mindset, we empower them to be successful in our rapidly changing world.
Entrepreneurship Worksheets For Kids
USD 21 (USD 42)
Entrepreneurship Activity Worksheet Bundle
Highlights - Entrepreneurship Worksheets For Kids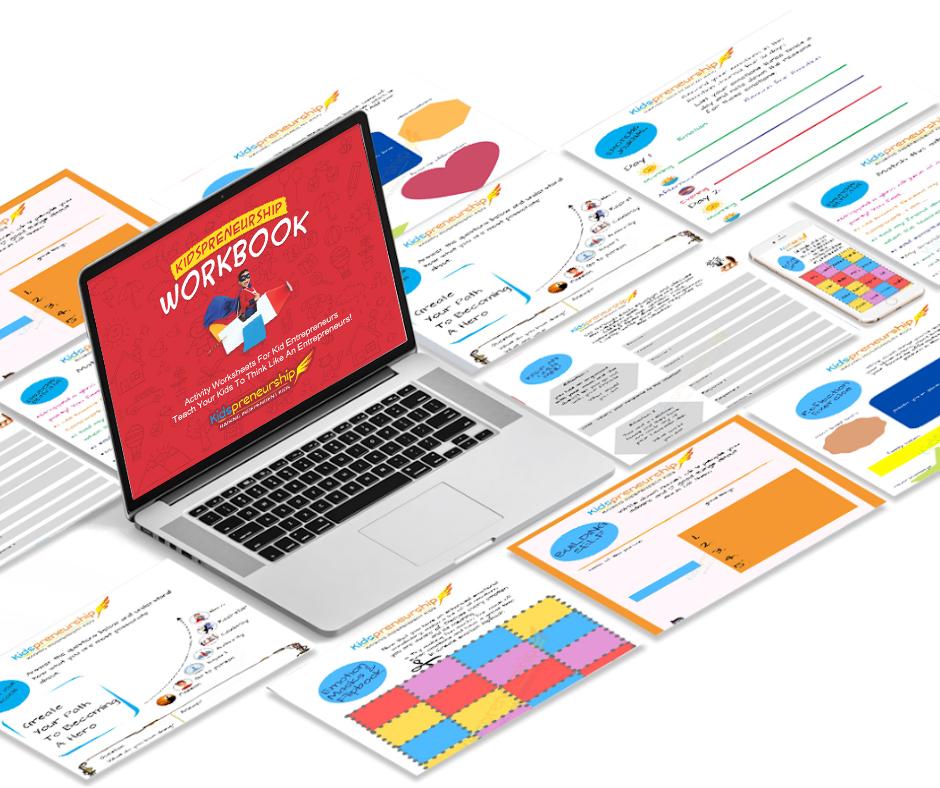 Downloadable Entrepreneurship Worksheets For Kids
In the Entrepreneurship program for kids, the activities are tailored for them so that they learn the ropes of Entrepreneurship early on. These activities are simple yet very effective to hone a growth and entrepreneurial mindset. This is a guided process where parents can act as facilitators if required.
What can be your best investment for 2022? One that focuses on your child's mindset development. What better than to invest in a kid's entrepreneurship that will give your child an edge over others in his or her future?
You can be part of a moderated, highly engaged community that we are building on Facebook. We are certain that your child will benefit immensely from these worksheets
We are truly dedicated to the mission of making growth and entrepreneurial mindset program available to every child.
You can also be part of our Online Holiday Camp by clicking here
If all kids have an entrepreneurial and growth mindset, imagine the kind of impact it can have….
This is what excites us and keeps us going every single day…
Refund Policy – Entrepreneurship Worksheets For Kids sold as downloadable digital files are not refundable due to the nature of the product. However, if there is something wrong with the file, it will be replaced by another link.